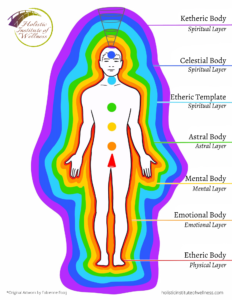 Welcome to the latest installment (part 2) of our 5-part series, 'Healing from the Outside In.' Today we are discussing the astral layer.
Energy Shifts
Before we get into that, let's quickly discuss the shifts that we may be currently experiencing. On Wednesday, May 25th we had a full moon lunar eclipse. Then, coming up on June 10th, there will be a new moon along with a solar eclipse. Between May 25th and June 10th there will be a lot of shifting. If you are finding yourself going through a lot of energy and emotion, these events can help you bring difficult feelings to the surface so you may clear and release them. All of this is giving you the opportunity to feel lighter and remove all the baggage, bringing with it more clear thoughts.
The Astral Layer
The astral layer is essentially the 4th layer out. It is a green layer and connects to the heart so it is also considered the heart layer. This layer is rarely talked about and we feel it is extremely important. You can see in our diagram that it is between the spiritual layers and the layers that encompass the physical, emotional and mental layers, making it a bridge that connects them.
This heart layer is the layer that projects itself the furthest, sometimes 15 ft in heavily spiritual people like Shaman or Monks! Yours may not go that far, but with practice you can make your astral layer stronger. There are many ways that we can work on opening our heart layer and one of the best ways is through forgiveness. A lot of times we want to hold grudges, but when we hold a grudge, it is not affecting the other person, however it can affect us both physically and mentally. Once we realize this and begin to work on releasing that, we can learn to open up our heart freely and be ourselves without the burden of long-held anger.
Emotions associated with the heart chakra are love, compassion and joy but on the flipside of that is anger, frustration and abandonment. So, what we must do is learn to manage the negative. A good prayer for managing these energies and self-forgiveness is the Hoʻoponopono prayer. Practicing this prayer daily can help give you calm during chaos.
Managing the Energy
This layer helps you sense the energies of others, but we have to learn to manage this empathic energy. An easy thing to help manage this energy is rub your hands together and brush off from head to toe, imagining yourself brushing away all of the negatie energy. Another easy method to work with the energies you absorb is to just breathe and tap at your heart. This will help clear and open up the channels of energy.
One of our areas interest, Heart Math, also studies how this layer affects you. Right now they have a new, free series that you can download that gives you a little understanding (even from a scientific standpoint) that will help connect the dots.
Right now we all have an incredible opportunity to shift our consciousness up to push on to ascension, but we must make the effort for this to happen. We must practice opening ourselves up through whatever means works best for you. Once you find your niche and where you fit in, the other pieces will fall into place. And please remember we are here if you have any questions, we would love to help!
Watch the full video for more details, the background on the Ho'oponopono prayer, a meditation moment and a card draw!
Read/watch the whole series: