Looking for something refreshing for these hot summer days? Have an abundance of watermelon? Try a delicious Sparkling Watermelon Spritzer.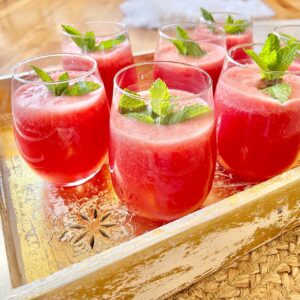 Sparkling Watermelon Spritzer recipe:
Blend organic ripe watermelon flesh and fresh organic juiced lime (just the juice!) in the Vitamix or blender until it's smooth and slushy. Add ice for added slush or put into the freezer for about 15 – 30 and blend again. Make sure you check on it so it doesn't freeze solid. Oh and don't worry about getting all of the seeds out. They are full of nutrients.
 Fill glasses 2/3 full with mixture
 Add 1/3 Pellegrino or your favorite Sparkling water. Try a ginger beer for an extra kick.
 Stir gently with a spoon just to mix
 Garnish with fresh mint
 Drink and enjoy! So refreshing and hydrating.
Carolyn
You can find other recipes by Carolyn HERE!
Recipe inspired by Sandra Walter at sandrawalter.com.