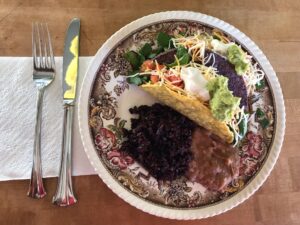 If you are looking for something simple this is a great favorite. You can use it in soups, spaghetti or my personal favorite…Taco Night!
Vegetarian Walnut Meat
8 oz of baby Bella mushrooms – chopped
2 lbs. walnuts – chopped
1 small yellow onion – chopped
2 gloves garlic – minced
2 tablespoons coconut aminos (or some other kind of soy/tarmari sauce)
2 tablespoons ketchup
1 package organic taco seasoning mix
3/4 – 1 cup chunky salsa
*Makes 12-14 tacos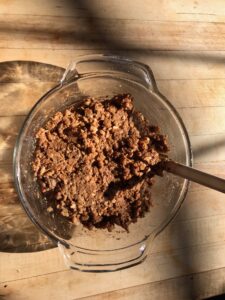 Chop mushrooms and walnuts in a food processor or high-speed blender. If using a high-speed blender, pulse, do not blend. Be careful not to make a paste. Transfer to a bowl and mix in the coconut aminos, ketchup and seasoning
Sauté onion and garlic in a tablespoon of oil (I use sunflower) for about 5 minutes until translucent.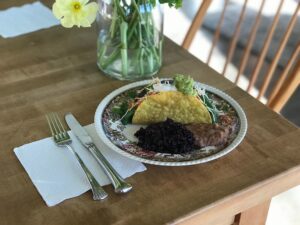 Add in the mixture and cook for 10 minutes or until walnuts become soft. Add in salsa about a 1/4 cup at a time for additional moisture. You can also add an additional tablespoon of oil to add a richer flavor.
Original recipe inspired by Jennifer Stone
Enjoy!
Carolyn
You can find other recipes by Carolyn HERE!