We are officially headed into spring where we feel more excited about getting out and moving around – it's a perfect time to focus on connecting and community! We are, by nature, pack animals. Whether we know it or not, we subconsciously long for connection with others, and now, more than ever, the entire world is realizing the importance of human interaction and connection. Today we are going over 5 important reasons why being connected and experiencing community is important.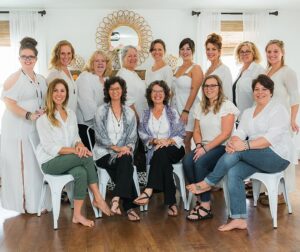 Support

– A good support system for your journey has so many positive benefits including improved well-being, better coping skills, reduce depression and stress and so much more! A quality community can be a fantastic support system.

Connection – Being with like-minded people can help you feel connected and things take on a different feel, improving overall health and well-being.
Collaboration – Activities and ideas sharing enhance connection – from early times when we were hunter-gatherers, we collaborated with others. With the rise of technology, we have also noticed a rise in loneliness. We can order food to be delivered, and we celebrate events on social, with 'friends' sharing in the celebration with a thumbs up or smiley face. Take a step out of your comfort zone and go out with friends, collaborate together at an escape room, make movie plans or take your dogs to the park together. Sprinkling a few of these small, simple, collaborative moments in your life can make a difference.
Learning – Expands mind and consciousness. Whether you are a student, a professional focused on career goals or interested in personal growth, learning can have a big impact on your life. Mental growth can help you in many ways from making better decisions to enhancing the achievement of your goals to just understanding how the world works better.
Belonging – When you find your tribe it improves your mental well-being exponentially. Our world revolves around groups and labels. We are members of families, have specific hobbies, belong to a particular spiritual group or political party and so much more. Most of our lives revolve around belonging to something. This alone is an indicator that the need for a sense of belonging is a fundamental aspect of our lives.
Another thing to consider is that communities can be productive, engaging and valuable regardless of size and location. Whether it is a community of 5 people in a local group you are part of or a community of thousands on an online forum, deep connections can be made because it is all unique to your needs.
Watch the video to the end for the March card pull!
If you are seeking more guidance around holistic and spiritual topics or if you're looking for an intentional community we would love to have you come join Holistic Wellness Revolution.