Vibrational Energy 101 (Third Eye)
In the Reiki and general esoteric communities, we talk a lot about "energy." If you are already interested spiritually, already familiar with, or working in these fields, that term is likely a no-brainer. But what about those new to this term, to those just awakening? What do the words vibration and energy mean, not from a dictionary, but how do we intend them to be interpreted?
For me this terminology refers to my overall 'being.' What I perceive in myself and how I am perceived by others. Am I feeling good, well, happy, smiling, stable, balanced, or even joyous? Or maybe a bit blah, or meh, a bit down, tired, emotional, maybe even depressed? Believe me, I have been, and can still on occasion, describe myself as feeling all of these. Where I want to be is on those higher, feeling better, feeling good, levels of energy and emotion (vibration).
>>Related: Vibrational Healing
How do I get there? Tools, many of them. Being aware of my thoughts and that they pass, yes really, they do. That's the first thing. There have been times when my mind has glommed onto a thought, believed it, got on the hamster wheel and half my day been eaten up with believing that one thought! What do I try to do these days? NOT that. Ha Ha. I know that sounds easy but I still have to work at it. I have my usual practices, all of which you may well be bored of hearing about by now. However and – they work. Journalling, meditation, and grounding are key for me. After that, I have my Al-Anon slogans and the Serenity Prayer. And of course – my stones & crystals. Just last month I was talking about Carnelian and the idea of "Staying grounded & raising your vibration may sound contradictory…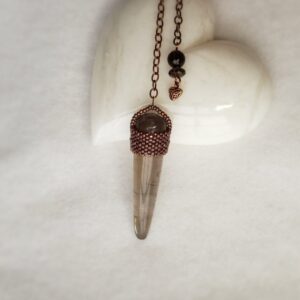 I chose Smoky Quartz this month because my go-to source for metaphysical information on stones, Judy Hall, says this, "Smoky Quartz is one of the most efficient grounding & anchoring stones & at the same time raises vibrations during meditation."
Raising your vibration, for me, equates to feeling better, lighter, well, happy, peaceful, serene, and in flow. Smoky Quartz can help me with all of those. "This stone is a superb antidote to stress & assists us in tolerating difficult times with equanimity, fortifying our resolve. It helps also with grounding our spiritual energy into the body & gently neutralizing negative vibrations. Can relieve fear, lift depression, & bring emotional calmness."
Apophyllite – A powerful vibrational transmitter. Creates a conscious connection between the physical & spiritual realms. A spiritual stone enhances clear sight, stimulating intuition. (Third Eye Chakra)
Chalcedony – Absorbs negative energy & dissipates it. Brings mind, body, emotions, & spirit into harmony. Instills feelings of benevolence & generosity, can transform melancholy into joy. Creates an open & enthusiastic persona.
Charoite – Stone of transformation. Encourages vibrational change & links to higher realities. Aids in coping with enormous change at a spiritual level. Provides deep physical & emotional healing. Accept the present moment as perfect.
Chrysanthemum Stone – Exudes calm confidence, and enhances any environment with its gentle presence. Radiates harmony & synthesizes change with equilibrium. Enjoy being centered in the present moment.
Garnet – Revitalizes, purifies, & balances energy, brings serenity or passion as appropriate. Brings courage & hope, and promotes mutual assistance in times of trouble.
Jaspers – Known as 'Supreme Nurturers.' Can sustain & support in times of stress, brings tranquility & wholeness. Provides protection & grounds energies & the body. Cleanses & aligns the aura.
Ruby – Excellent stone for energy & abundance. Imparts vigor to life, energizes & balances. Improves motivation & goal setting. Encourages following your bliss! Promotes positive dreams & clear visualization.
There are a couple of stones that can help if you feel you have good vibration/energy levels generally but the feelings wane or maybe leak from your bodies and fields.
Pyrite – Excellent shield, blocks negative energy. Worn around the neck protects all the subtle bodies and prevents energy leaks.
Labradorite – Highly mystical & protective stone, bringer of light. Forms a barrier to deflect unwanted energies and prevents leakage.
Final thought. Not ready for a full-blown power boost pendant or bracelet? Try a Micro Energy Shield to create that first baby step or two. https://janetedkins.com/micro-energy-shields-update/
With love & blessings. J
Beads of Light – www.JanetEdkins.com
"Created with love, infused with energy"
All crystal information courtesy of Judy Hall.
Janet Edkins Creates – Beads of Light Collection.
Healing stones & crystals jewelry delivered directly to your door – click the link for more info and to get on my waitlist.