The Importance of Connecting and Community (Heart Chakra)
I AM grateful for this topic, mostly because I enjoy connecting and community and of course, ametrine! I don't think I realized how much they mean to me. As an extrovert, I get my energy from people and have sorely missed the many meetings and potential connectivity in the last 2-3 years. However, I will say that the significant fracture in my calendar has had a profound effect, almost to the point of changing my whole worldview.  I AM grateful that this is now in my awareness and that this topic has highlighted my current state of being and motivation.
As always, my first go-to is always the crystals and stones that can support me when I need to look at myself. For example, using crystals that are indicated for friendship might help me/us manifest what we need by way of new connections, or re-establishing old ones. At the same time crystals that can help open our hearts and maybe add a touch of courage can be very supportive if we need to 'step out' more from our cocoons of home and safety.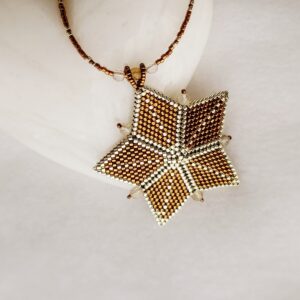 This month I chose Ametrine as my stone of the month. It's a powerful combination of amethyst and citrine and, in my estimation, holds a double dose of whatever we might need.
Ametrine – It can help us connect the physical and spiritual realms. It has very soothing energy and helps with stress. We can use its creative energy to come up with solutions to difficulties whether work-related or personal. Ametrine combines masculine and feminine energy and helps bring harmony to others. It is useful for removing negativity filling an area or our auric fields with the light and energy of love and healing. This stone helps to release limiting beliefs and unlock our intuition with ease. It's a must-have when we're on the hunt for new and inspiring connections.
Amethyst (alone) – Highly versatile, high-vibrating stone helps nurture connections with love & grace, brings a sense of serenity. Aids eliminating fears around friendships & attracts souls aligned with yours.
Citrine (alone) – Can transmute negative energy into positive. Sunny yellow stone offers a sense of warmth and promotes happiness, vitality, & new beginnings! Supports in the manifestation of goals in life, friendships, or otherwise.
Aquamarine – Naturally soothing stone that promotes healthy relationships. Helps go with the flow by clearing stresses. Works with throat chakra to overcome miscommunications in existing friendships, relationships, & casual connections.
Carnelian – Has the ability to skyrocket courage & confidence. Can also help attract prosperity & to manifest dreams.
Emerald – Encourages growth & renewal, & opens hearts to hope. Brings harmony to relationships, and provides emotional support, & mental clarity. A great stone to use with intentions of renewing existing connections or friendships.
Hematite – Able to absorb negative emotions & energies, restoring peace & harmony. Boosts self-esteem, enhances willpower & allows for clear thinking, confidence, & a sense of security. Removes self-limitations, aids expansion, good to use working to build a supportive social circle.
Labradorite – Powerful stone inspires self-discovery, spiritual awareness, & intuition. Resonates with consciousness, stimulates imagination & protects from negative energy. A great crystal for friendships, encouraging adventure & spontaneity, connecting us with higher levels of consciousness, desires, hopes, and dreams regarding the connections we want to manifest.
Pink Opal – Very soothing energy and serves as a helping hand when making new friendships. Promotes self-healing of emotional wounds, which can otherwise get in the way of nurturing & growing new connections. Brings comfort when venturing outside of our comfort zone and meeting new people.
Rose Quartz – Always a favorite. Long known as a symbol of love & compassion, holds very gentle & caring energy. Promotes every kind of love: romantic, platonic, familial, & self-love. Helps us attract more of the love & community that we want in our lives.
Unakite – Beautiful stone that works with the heart chakra. Uplifting & gentle energy promotes compassion, kindness, & gentle release of emotions that no longer serve.
Final thoughts this month about the heart chakra.  It's important for me to be out in the world with an open heart, giving and receiving the hugs that make my day. Finding myself sometimes reluctant to venture out is, I believe, just a temporary throwback caused by recently imposed distance. If I work at clearing this I'm certain it will fade. In the meantime, I will continue to wear my stones of protection and my heart chakra support.
>>Related: Beginners Guide to Energy & Chakras
With love & blessings. J
Beads of Light – www.JanetEdkins.com
"Created with love, infused with energy"
All crystal information courtesy of Judy Hall.
Janet Edkins Creates – Beads of Light Collection.
Healing stones & crystals jewelry delivered directly to your door – click the link for more info and to get on my waitlist.