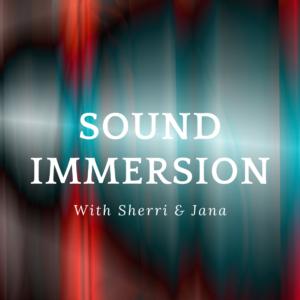 Back by popular demand is the dynamic duo of Sherri and Jana! Their tuning forks and sound immersions await!
Begin your Sonic Healing Experience with Sherri as she provides you with a Sonic Meridian Flush. This specialized sound massage treatment uses tuning forks and crystals directly on your body and helps open your energetic pathways and balance your body's nervous system. The result is a deep relaxation that prepares you for the beautiful and restorative immersion into the healing frequencies of sound provided by Jana. As she intuitively plays her incredible variety of instruments, you can surrender to the sound as it brings healing, balance, and restoration to your mind, body, and spirit.
Scheduling
Dates:
June 6, 2022
June 13, 2022
Please schedule 3 hours to see both Sherri and Jana
Sherri's availability: 9am / 11:30am / 2:00pm
Your appointment with Sherri will dictate when you see Jana
To book your appointment with Sherri call 865-898-4552
Looking forward to swimming in the frequencies with you!!