Roasted cauliflower with chickpeas, lime red cabbage and avocado sauce are a tasty treat for any occasion.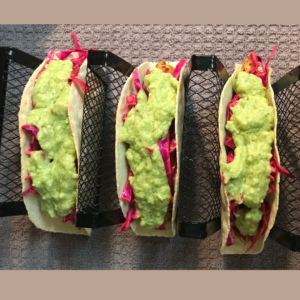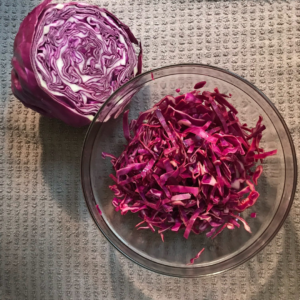 Slaw
2 c. red cabbage
3 tbsp apple cider vinegar
1 lime – juiced
1 tsp honey or sugar
1/4 tsp. salt
Slice the red cabbage thinly (I use more than 2 cups because I like the slaw). Mix everything together in a bowl, cover and set aside for 30 minutes to an hour to marinate.
Vegetable Filling
1 small to medium head of cauliflower chopped
1 15 oz can of chickpeas drained and rinsed
2 tbsp of olive, sunflower or avocado oil
1 tbsp of taco seasoning
2 tsp paprika OR 1 tbsp chili powder
1/4 tsp cumin
1/2 tsp salt
Mix and stir together really well. Roast in the oven on 400 for 30 minutes. You can line your pan with parchment paper if you desire.
Sauce
1 avocado
1 clove garlic minced
1/8 cup of olive, sunflower or avocado oil (use more if desired)
1/2 lime juiced
1 tbsp of chopped parsley or cilantro (optional)
Salt and pepper to taste
Mix all sauce ingredients well.
Heat tortillas (I like to use Siete brand with almond flour) according to package, serve and enjoy!
Carolyn
You can find other recipes by Carolyn HERE!
Recipe inspired by Sarah at liveeatlearn.com.