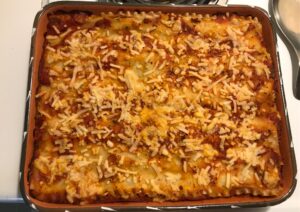 This vegetarian lasagna is one of my all-time favorite creations. The year of 2020 affected us all in different ways. I utilized my time by exploring and creating new recipes.
You can use this recipe with either a 9 x 12 or 10 x 13 Pyrex or casserole dish.
Filling:
Choose your favorite organic vegetables. Below are mine.
1 medium-sized yellow onion
2 cloves of garlic
1 medium zucchini
1 medium squash
1 medium red bell pepper
1 medium/large carrot
5 oz of baby spinach
Salt and pepper to taste
Other Ingredients:
Shredded Cheese: I use Follow Your Heart Vegan Cheese Italian Blend or Mozzarella. Usually, an 8 oz bag but you may want more depending on your cheese preference.
Lasagna Noodles: I prefer a gluten-free option by Pasta Joy. One of the best on the market in my opinion. You'll need about 9 noodles although if you want extra pasta you can use all 12. If so, just make sure you use some extra sauce.
Sauce: You can make your own tomato sauce but to save on time I use 1 32 oz jar of Organic Italian Herb Sauce. I sometimes add about 4-6 more ounces of sauce for extra flavor and juice.
'Vegan Flair' Cheese Sauce:
This replaces ricotta:
1 8oz cup of raw cashews – soaked about 4 hours
1/2 cup water
1 tablespoon freshly squeezed lemon juice
1 teaspoon apple cider vinegar
1/4 teaspoon Himalayan salt
1/4 teaspoon Dijon mustard
Drain the cashews and put all of the ingredients into the Vitamix or high-speed blender until creamy. Note: this is also a great recipe for vegan sour cream as well. You can add some nutritional yeast to give it more of a cheese flavor if you like.
Once your cheese sauce is complete scrape it out into a large mixing bowl. Don't worry about washing your blender just yet as you are going to blend your vegetables.
Directions: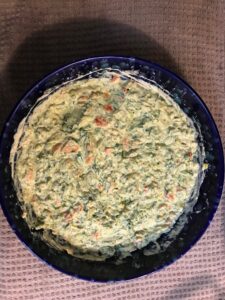 Sauté onions and garlic for about 5 minutes and then add in chopped vegetables for another 8-10 minutes. Be sure not to overcook. Add spinach at the end in increments to allow for proper wilting.
You don't have to chop the vegetables super small if you have a Vitamix or high-speed blender to mix everything together.
While your vegetables are cooking, make your cheese sauce and get your lasagna noodles going. Follow instructions on the package.
Once your vegetables are fully cooked ladle about 1/2 into your blender and pulsate until you have them chopped to your liking. Scoop those out into the mixing bowl with your cheese sauce and blend the remaining part of your vegetables. Then add those into the mixing bowl as well and stir thoroughly with the sauce.
Now you are ready to layer. Go ahead and preheat your oven to 425°.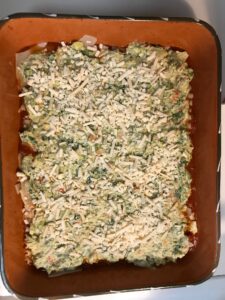 Spread enough tomato sauce in the bottom of your dish to cover thoroughly. Layer 3 lasagna noodles. Next, scoop about 1/2 of the vegetable cheese mixture and spread evenly. Sprinkle about a 1/2 cup of cheese. Layer 3 more noodles, tomato sauce, and the rest of the mixture. Layer your final 3 noodles and the remaining sauce (this is where you may need more) and top with cheese.
Bake covered for 20 minutes and then another 10 uncovered. You might need to add 5 minutes depending on how your cheese is melting. Every oven is different.
Let the lasagna sit 10 minutes after baking to cool before cutting. Cut, serve and enjoy!
Inspired by CookieandKate.com