Chickpea Kale Noodle Soup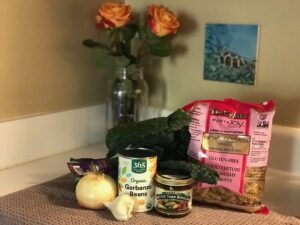 Spring is on the way! If you are wanting to eat lighter but still need something warm and hearty look no further. The transition from winter to spring is easy with this very simple chickpea kale noodle soup recipe. So delicious!
Ingredients:
1 15.5 oz can organic chickpeas – drained
32 oz of vegetable broth
1 small to medium yellow onion – chopped
2 cloves garlic – minced
5-6 leaves of kale chopped – I prefer Lacinato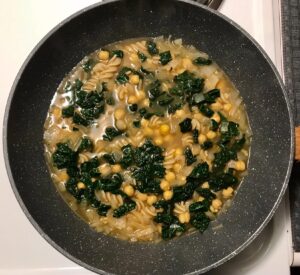 Directions:
Sauté onion and garlic in a tablespoon of oil (I prefer sunflower) for 3-5 minutes until onions are translucent.
Add vegetable broth and chickpeas and bring to a boil.
Add 1 heaping cup of dry Pasta Joy noodles and turn off the heat. Allow to sit 15 minutes.
At the 10 minute mark add in your kale to wilt properly.
Serve and top with some Follow Your Heart vegan Parmesan.
You can also get creative and add a couple of stalks of chopped celery and carrots and wa-lah, you've got a vegetarian version of chicken noodle soup!
Enjoy!
Carolyn
You can find other recipes by Carolyn HERE!