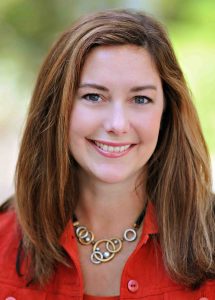 When the word 'work' comes up in conversation, our first thought is not typically to immediately feel joy.  Laura brings a new way of thinking to the table with her Center for Joyful Business.  With a focus on the ripple effects that joy can bring, she develops creative coaching and marketing strategies that are tailored to her client's values and gifts to generate successful and long-lasting change.  Laura feels that when a client is more joyful in their business, that joy will bring confidence, energy to pursue various avenues and excitement for growth.
You could say that Laura has found joy in her own endeavors from the time the idea was in it's infancy.  Eighteen years ago, she found herself reading an article about having joy in work and another on positive psychology.  The seeds bloomed into a full-fledged business plan which she excitedly shared with a co-worker who was so impressed she immediately offered her the opportunity of her very first paid project, for the company she currently worked for!  Who needs maps when you have giant signs like these telling you your path has been determined?
So, as her youngest son was born, so was her new endeavor,  The Center for Joyful Business.   You can tell Laura is genuine when she says that in her entire 18 years of her practice, she has only experienced 2 life events that challenged her and made her reconsider her journey.  The first was when the economy shifted so radically in 2008.  At that time Laura had been among the first to expand coaching using the internet as a marketing tool.  Once the economy plummeted, many people who lost their jobs became coaches and flooded the market, she had to revisit what made her unique.  Not only did she confirm her status as a coach, she learned a valuable lesson that is critical for any successful business owner:  There will always be rhythms and shifts, and you may not always be prepared so you have to be willing to accept things out of your control, be resilient and ride the wave.
Laura's second struggle was just 5 years ago as she went through a divorce.  All of the self doubts and questions came back.  Ultimately, as I would find is true Laura fashion, she found the learning moment in this experience as well.  This was where she had to learn about the grieving process.  Grief for loss of the past, and the loss of a dream.  Allowing yourself the time to grieve is an important process that has a profoundly positive effect on the healing process.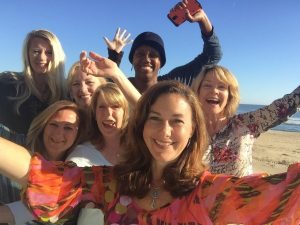 Through the roller coaster ride that life sometimes gives you, Laura has evolved her business and just this month has experienced what is currently the highlight of her business career.   Her dream of creating an all-encompassing, 'one stop' online shop for everything joyful for advancing business has been launched.  Everything from her Joyful Business Plan program, to affordable coaching and marketing options through the Joyful Business Studio, retreats, workshops and products.   She has been a busy woman!
Because Laura has joy in her work and the success of her clients, she is practicing what she is preaching on a daily basis.   Her expectations are to continue growth and eventually go back home to her roots on the Atlantic Ocean where walks on the beach are just around the corner.  She will surely expand her ripple of joy anywhere she calls home and create new connections.
***

For more information on Laura West and her Center for Joyful Business, go to https://www.joyfulbusiness.com/ and feel free to reach out!