It's July, time to go to the Beach for some space & freedom. Even in these strange times yes some people are going to the beach. However, if you are not, I have alternatives; how about if the beach comes to you. The first image is a center cut of a Murex shell, bit of a statement piece. Cream colored beads plus freshwater pearls, perfect for that beach wedding.
Shells bring inner peace, aid intuition & imagination, and communication with spiritual masters. They also support liberation of your intuitive & artistic energy.
I love creating jewelry with shells & beach pebbles. Some shells are delicate pieces, some are more robust, all of them carry the beautiful energy of the sea. And yes, strictly speaking they are not stones, they are however, still a gift from Mother Gaia and the creature that created them, seemingly out of nothing but actually from calcium carbonate with a touch of protein.
Beach pebbles of course are stones, too. They carry their own energy + a little something extra, a gift from our salty sister sea. I especially love the ones that have been rolled by the ocean to a beautiful state of roundness. Liberated from the land to be caught in the eternal ebb and flow until cast finally to a new resting place. The 2nd pic didn't have quite a gentle landing.  A piece of Sandstone from Penobscot Bay, cracked clean in two. Perfect shape for beading.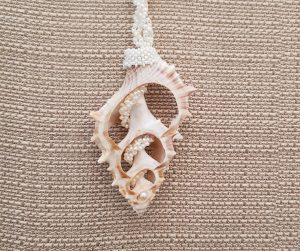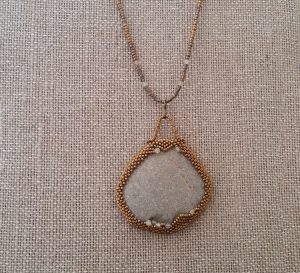 With love & blessings.      J
Beads of Light – www.JanetEdkins.com
"Created with love, infused with energy"
https://janetedkins.com/gallery-of-jewelry/sea-shell-jewelry/