Crystal Grid Creations
April 30, 2022 @ 9:30 am

-

2:00 pm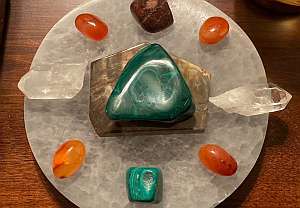 Join us with Multimodal Holistics (Jennifer Stone) for a day of Crystal Grid Creations.
Crystal grids are powerful tools for anchoring your intentions into a physical form. They enhance your manifestation potential by using the energy of the crystals, sacred geometry, and a physical reminder of your intention every time you look at it. Grids are beautiful decorative features in your home and office. And one of the easiest ways to support Earth Mother is to anchor healing intentions by setting a grid and leaving that intention wherever you go.
Jennifer Stone has been working with crystals and setting grids for more than 30 years. She uses many tools to optimize the healing potential of the grids she creates.
In this course, Jennifer will show you how to create simple and powerful crystal grids to raise your vibration, set protection for your home and family, send Divine healing to yourself and others, create abundance and support the aligning and manifestation of your Soul's path.
The course starts with the basic practices of how to create a Crystal grid. If you only have a small crystal collection, you can still do this course. You will be shown how to create crystal grids for love, abundance, healing, protection, revitalization/wellness, support of Earth Mother and nature, how to powerfully set your intentions to manifest your desires and also how to amplify your grids for a higher vibrational impact.
You will also learn how to create Advanced Crystal grids using powerful geometric templates and symbols.
What to bring:
Favorite stones or crystals to be used for gridding ***
Journal/pen for note taking
Snacks or water
*** if you do not have stones or crystals, I will provide them for demonstration only.
Prior to the class date you will receive confirmation and a reminder list of materials to bring to class. Printouts of several templates will be provided to you in class.
Class fee of $75 (non-refundable).
Let's enjoy a day of creating together. Please contact Jennifer at 865-405-4183 or jenstone990@gmail.com with any questions.
Send payment via PayPal. Log into your PayPal account and click the "Send money" option using email "jenstone990@gmail.com"
Please note: The Holistic Institute of Wellness is a smoke free environment and does not permit smoking or vaping in or around the building during the entirety of our workshops and classes.