Pop-up Jewelry Shop
May 5, 2022 @ 11:00 am

-

5:00 pm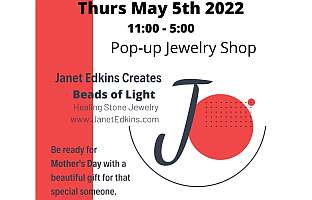 Join Janet Edkins & Carolyn A. Jones in discovering the ancient power of healing stones.
Crystals and stones carry stable and unchanging energy. Each carries its own unique frequency and vibration available to you. I make my pieces with focused energy and intent that the piece will call to their person, at the right time and space to harness the growth potential, support, energy or emphasis needed. Where ever you are in your ascension process these awesome gifts from Gaia can be tools, friends, helpers, whatever you need on your journey. AND they look fabulous and sometimes blingy!
Celebrate Carolyn's 12th business anniversary with 12% off all in stock items.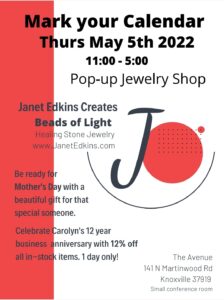 More than "just" jewelry!
The idea of jewelry carries a lot baggage packed over many centuries and assumptions. For some people it is just frivolous "bling." For some it is "high art." For some it has to be hugely expensive – think high end Emeralds – for it to actually be considered jewelry.
None of the above is what I do. The power and energy of stones and crystals, gifted to us by Gaia, have no need for our labels. Raw, "low grade," Emerald is just as metaphyisically powerful as any of the world's most famous ones.
Complimentary Happy Hour Bubbly 4:00pm – 5:00pm : )))